History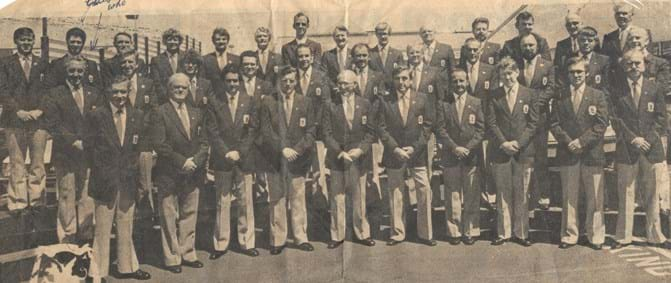 When at Christmas 1972, a group of men from the Frankston Pines Estate sang carols at the local football ground. It was decided then by two of this group to form a choir, which they did and it was called "The Peninsula Cambrian Society".
Viv Smith was the master from January 1973 to May 1973. When Steve Sullivan became the new master of the choir in May 1973, it was known as the ''Peninsula Cambrian Calon Lan Society". The choir went through further name changes, the first of which, at the request of the Frankston Council, was "The Frankston Welsh Male Voice Choir". It was then decided to look for a patron and Mr. Bailleu Myer was approached for this position. He suggested that we change the name again to the "Australian Welsh Male Voice Choir". This was done and he has been our patron ever since then. Steve Sullivan took the choir on to great achievements with the first big concert on the ABC in the chapel of the Victorian Police Academy at Glen Waverley. This was the first coloured program by the ABC in the eastern state of Australia.
The choir then performed in many different venues in Victoria, South Australia and the ACT. In 1983, it was the guest choir at the ACT eisteddfods. Preparation then began to ready the choir for its first appearance in the Albert Hall in London with the "Thousand Voices ofWelsh Male Choirs" in 1984. This was the first time that a choir outside the British Isles had been invited to this performance. Prior to appearing at the Albert Hall, the choir toured Wales and many other countries extensively.
---
Our Musical Directors:
1973 - Viv Smith
1974 - 1984 Steven Sullivan
1984 - 1995 George Hadwen
1995 - 2001 Sian Parry
2002 - 2015 Anne Credlin
2015 - Present Tom Buchanan OAM